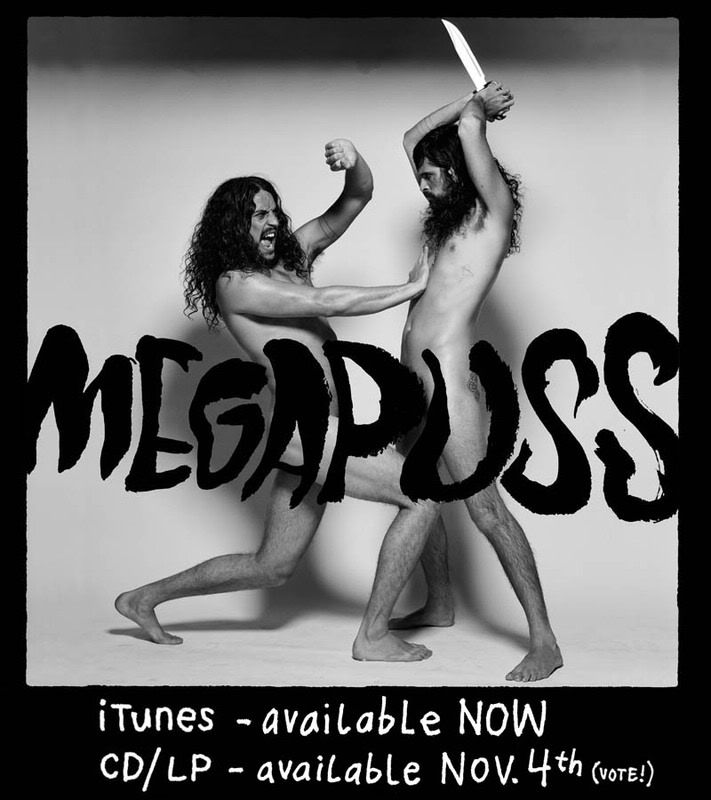 MEGAPUSS 2008
By alexander laurence

Megapuss is a new band from Los Angeles. The members include Greg Rogove (of
Priestbird) and Devendra Banhart. Fab Moretti (of The Strokes) is also a
member. Other members include Noah Georgeson, Rodrigo Amarante, and Aziz Ansari.
They played their first show this summer at the Hammer Museum. This performance
was highlighted by the band wearing "penis skirts." The second gig was a free
show at Spaceland. This ended up being a crazy event and a line of hundred
people were left outside. I caught the band on their first proper tour. They
have an album coming out in October 2008. I spoke to Greg Rogove before the show
at the Troubadour.

AL: How is Priestbird doing?

Greg: We are in the middle of making a record right now. I am going to
Seattle next week. We are going to finish that up.

AL: How did Megapuss start then?

Greg: When we were touring for the "Smokey" album, Devendra and I, we went
to Europe and the states. We had a list of song titles. We had "Food City." We
had "Doctor Beaver Mustard." We had "Duck People Duck Man" and "Surfing."
That was the band at the beginning: we had all these song titles. We were
happy with this idea for a band. We could write down song titles on the bus or
anywhere. We had some downtime before shows. We said: "Let's get into music
again. Let's write a song in fifteen minutes." We would look at the list. "What
does Hamman sound like?" And we would write something really fast. And then we
would play a show…

AL: It's like the idea "First breath, best breath…"?

Greg: Yeah, exactly. What do you see when you open your eyes in the morning.
What ever it is. Do something with that. When we finished the tour, we got
home, and we had written sketches for 25 songs. When we finished the tour, we
decided to make a record. We set up a little studio in our house in Echo Park.
It's right under Route 5. So the traffic is part of the sound. We made a record
in a few weeks and we had a great time.

AL: Was that song "Shabop Shalom" an influence on Megapuss?

Greg: I see what you are saying. I performed that live but Devendra wrote
that story. Noah did it on the record. I did it live because everyone else was
playing something. I think the band just started with us and our sense of humor,
and how we make each other laugh.

AL: There was something going on that was Megapuss, but it didn't have a name?

Greg: It's the dialogue of Devendra and I. Fab Moretti was lurking around our
property a lot. Creepily he was scurrying around like the raccoons. He was
homeless and we brought him in. Everyone goes through some homelessness at some
point.

AL: He was a stray dog?

Greg: He was a stray dog that we shaved his whole body. We asked him to sing
on one of the songs. He helped write and he sang on "Theme From Hollywood."
We brought in a bunch of friends like Rodrigo, Noah, Luckey, and Aziz Ansari.
He is an incredible actor and comedian. He sings on "Duck People Duck Man."

AL: Was there any new music influences on this new record?

Greg: I would say that it was backwards. After we made this record, we
discovered a lot of music that was just like it. I knew those records were out
there. Some of them we had heard before. But most of it resurfaced or we heard
afterwards. It was not a conscious thing. It just seemed very natural to do this
record.

AL: When your friends heard these tracks, who did they mention?

Greg: I think the most accurate is Hasil Adkins. He is a legend. There are
Ween and Tenacious D. If Ween and Tenacious D weren't funny they would be
Megapuss. Jack Black is awesome. That song "Piggies" by The Beatles is really
great.

AL: It's playful.

Greg: Playful and lighthearted. It's out there to inspire, to incite but not
overwhelm. We were in a good place when we wrote the record. So it's about
being happy and excited. It's a tangible object for people to share.

AL: When does the record come out?

Greg: It's out on iTunes. The actual physical release will come later in
October 2008 on Vapor Records. We are excited.

AL: Megapuss has played a few shows so far. Maybe people who are fans of the
other bands, may not know about it yet. It seems like maybe Megapuss is a very
different world from the music of Devendra Banhart and Priestbird. Can you
talk about that?

Greg: Disparate may be the word. It may not come across as being as serious.
There is serious humor and lightness in it. The name Megapuss means "big
kiss." It's definitely in line what our whole group, and our friends, are doing.
It's there to inspire and uplift. We are spreading love and making peace
possible.

AL: The first show was at the Hammer Museum. What was that about?

Greg: The Hammer show was a collaboration with Lauren Dukoff. She was showing
her photos and we were doing the music for that. That was the very first
show.

AL: There has been a lot of talk about the "Penis Skirt."

Greg: There has been enough talk about that. It was just an accoutrement to
the show. It somehow became the focus. There is a lot of penis imagery. That is
to offset the misconception of "Puss." Megapuss doesn't mean Big Pussy.
It's wrong. Penises are good.

AL: Who made those skirts?

Greg: Devendra made the skirts. Since they have been used I don't think
anyone wants them. We are going to burn them.

AL: The second show was at Spaceland with Warpaint. Could you talk about that
show?

Greg: That was our first club show and it was near where we live. We got our
friends together for that show. We were there for Warpaint. They are an
incredible band. Here is our good friend, and drummer, Fab Moretti. (points to him).

Fab: I want to get a beer.

AL: How did that show go?

Greg: It was hot and awesome. Everyone got hurt from the alcohol. But in a
good way. Megapuss does a lot of drinking, but less than the Strokes.

AL: Who is playing with you tonight?

Greg: We have a great scene tonight. We have Little Joy, which is Fab's other
band. I play drums in Little Joy, and Fab plays drums in Megapuss. That is
the barter exchange. Little Joy and Megapuss is essentially the same band, but
we switch instruments. We will play each other's songs. So it might be
unfortunately boring for the crowd.

AL: Will there be a costume change between bands?

Greg: If we are inspired there will be. Even if we weren't playing shows, we
would be hanging out. We would be drinking Mai-Tais. I like that Tropical
feel. Little Joy is like surf rock. It's like Brazilian surf doo wop. Megapuss is
about the summertime.

AL: Did you record it in the summer?

Greg: We recorded it in March. Little Joy we did over the past year.

AL: You recorded all those songs?

Greg: We recorded sixteen songs and put out fourteen. We will be playing ten
songs live.

AL: "Adam & Steve" is a new take on the Bible.

Greg: It's about the Garden of Eden. Adam and Eve ate the fruit and were
banished from the garden. Adam and Steve were gay lovers and they ate from the
fruit but loved each other and stayed in the garden. They lived in perfect
harmony and are still there.

AL: Will you perform telekinesis onstage?

Greg: We are such close friends. We are going to morph into each other. It
will be real shape shifting. The changing of body chemistry onstage.

AL: What have you been up to this summer?

Greg: There has been a lot of surfing. It's a new thing. Noah surfs a lot. I
thought I was good. But Rodrigo came from Brazil and he took over. I claim
second best though.

AL: Have you seen any good films?

Greg: Ghostbusters is good. I like Point Break.

AL: The motto of Point Break is "If you want to experience the ultimate, you
have to risk the ultimate." How do you feel about that?

Greg: That is how we live. We risk our lives for music and glory, just like
Johnny Utah.

AL: Priestbird is going to finish a record soon?

Greg: Yeah. We are working in Seattle with Stone Gossard. We should finish it
soon and it should be out in Spring 2009. He is the funniest man on the
planet.

AL: Are there any good books that you have read? Megapuss is all about
inspiration, getting centered, and looking into the light, in my opinion.

Greg: There have been a few books. I hope that I don't sound pretentious, but
I was reading The Brothers Karamazov..

AL: Everyone has to dip in the Russian novel at some point.

Greg: I have never read any Dostoevsky. It's great. It's so good. It's a
long novel, and I hit a rut. I switched over to In Defense of Food by Michael
Pollan. All of his books are good. I got bored of that and switched over to Lord
of The Flies.

AL: Is Dostoevsky going to figure into the new Priestbird record? That is
like a high art influence?

Greg: Actually I have been reading The Far Side. Devendra, the other half of
Megapuss, is really into Swamp Thing. He likes all the Alan Moore comics.

AL: Any final words to the fans? Any message? Words to live by?

Greg: Three words: peace is possible.