RINGO DEATHSTARR
POST NEW VIDEO FOR "TWO GIRLS"
& "KALEIDOSCOPE"
NPR, WIRED, CNN, BK VEGAN PICK BAND AS HIGHLIGHT OF SXSW
Wired "Must Hear Band at SXSW"
NPR "SXSW Preview On ALL SONGS CONSIDERED"
CNN "What's Next" Profile
BROOKLYN VEGAN "SXSW Live Review"
"Colour Trip
is one of my favorites of 2011"-Brooklyn Vegan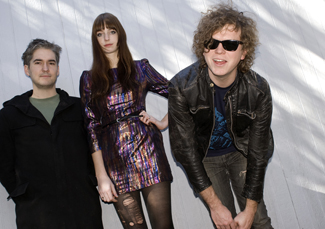 Austin, TX trio, Ringo Deathstarr released TWO new videos for the songs
Two Girls
and
Kaleidoscope
today. The self made videos encompass everything the band is, loud, fuzzy and dream-like, as evidenced on their new full-length album
Colour Trip
. The band have just delivered a whopping
twelve plus
shows at
SXSW
which was championed by such outlets as
NPR
who included the band in their SXSW preview as a band they can't wait to see.
Wired Magazine
proclaimed Ringo a "Must Hear Band" in their SXSW preview.
On the press front, the band is also getting attention including top web outlets like Pop Matters giving the band an 8 out of 10 and saying the band has "expanded its musical palette to the point where they shift gears between varying styles so effortlessly that it's enough to convince listeners they've been doing this for the past 20 years." Chrome Waves called the album "Loud, fuzzy and fun," CMJ called it "an interesting indie-pop/lo-fi contrast that's addressed in every distortion-soaked, echoing track." Local tastemaker The Austinist gave it's seal of approval saying "Ringo Deathstarr's debut LP is a well-made, effects-laden enfilade of melody and noise." My Old Kentucky Blog who proclaimed "At heart, Ringo Deathstarr is a tremendous pop band, perhaps ready to rival Belle and Sebastien." Street Boners said Is it possible to wear out your YouTube player to the point that it starts skipping, because that's how many times I've spun this video for "So High." UK tastemaker NME proclaimed "It's a shame we do not live in a world in which Ringo Deathstarr is the name of Liam Gallagher's new band." Finally MOG.com sums it up by saying "I can only state that this is an amazing record."
Ringo Deathstarr head to Japan in April and will announce a national U.S. tour shortly.

Read more / Permalink