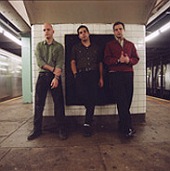 RADIO 4
Interview by Alexander Laurence
Radio 4 is one of the originators of the New York scene. The Brooklyn-based quintet Radio 4 began in 1999 as the trio with Anthony Roman (bass/ vocals), Tommy Williams (guitar) and Greg Collins (drums). They all grew up as participants of the Long Island hardcore scene. In the 1990s, they gravitated to the city.
A band that would bring reggae, punk and dance music together, Radio 4 felt trapped by the limitations of indie rock of the early 90's. They were initially inspired by the 1970s punk explosion, and named themselves after a Public Image. They were interested in the rhythms, much like bands like The Clash and Gang of Four. All those elements had left the serious indie rock scene.
Their first album was called The New Song and Dance (2000). This record caught on with a small group of listeners who liked the DJ scene, dub reggae, and post-punk music. Anthony Roman soon opened a record store called "Somethin' Else" in Brooklyn. They released the "Dance To The Underground" EP (2000). The single would be used in a Mitsubishi TV ad.
In 2002, Radio 4 hooked up with the DFA production duo for their second album, Gotham (2002). It was recorded before 9/11, but was all about the changes in the city. The band got noticed and played many shows with other bands in the New York Scene. They added two members P. J. O'Conner (drums) and Gerard Garone ((keyboards). Radio 4 soon toured Europe and the UK and their audience grew. But at the same time, they had to deal with being Americans abroad.
Most of that feeling is dealt with on the new album, Stealing Of A Nation (2004). Songs like "Party Crashers" and "Transmission" are some of their best yet. Radio 4 is a band on the rise. I got to talk to keyboardist Gerard Garone right before their tour with the Libertines had got underway. Radio 4 and The Libertines will be playing New York at Webster hall on October 12th.
******
AL: How did you all meet each other?
Gerard: The rest of the band knew each other in the punk rock scene in New York. Radio 4 used to play at this club in the East Village called Brownies. I used to work there. I became friend with them and then joined the band.
AL: You worked at Brownies in the heyday?
Gerard: Yes, I was there in the heyday. Brownies was the CBGB's on the late 1990s.
AL: many of these bands that you would associate with the New York Scene got their start at Luna Lounge and Brownies.
Gerard: Yeah. For the most part, those places, and Mercury Lounge and Don Hill's. Everybody has played Brownies at some point in their careers.
AL: When did you join Radio 4?
Gerard: I joined them about three years ago. There are five of us.
AL: Why are you called Radio 4?
Gerard: It comes from a song by Public Image Limited. It's on Metal Box.
AL: Have you had any problems with the name?
Gerard: We have had no problems with the BBC's Radio 4. Nobody has tried to sue us yet.
AL: What do you think about all this attention on New York bands?
Gerard: Yeah. I think that the attention that New York has gotten for a majority of the bands is well deserved. There is a lot of quality music that has come out in the past five years. It's pretty well founded. Some of these bands are getting attention and it is my hometown. I am always glad to see that.
AL: Have you done a lot of American tours?
Gerard: Yeah, we have done a lot of American tours. We have also been in Europe a lot. We have probably spent more time over there than here in America. The tour with The Libertines is one of the bigger ones we have done here.
AL: What other bands have you played with?
Gerard: We have toured a lot. We have played with a lot of bands. We got to open for Joe Strummer six months before he died. He did a lot of shows in New York. It was just huge to open up for someone like him. That was the most memorable show. We have played a lot of festivals. In those situations you end up playing with bands that you love. We played with Primal Scream and PJ Harvey.
AL: How do you write songs on the new album?
Gerard: It works indifferent ways. There are ideas that we put together in the rehearsal space. There was stuff created in the studio. There are songs that are from demos that people created at home. There is no set way we write songs in the band. Whatever way it comes from that is where it comes from. People all come sin with set ideas.
AL: You all write together?
Gerard: Yeah. For the most part. The way it works is pretty democratic. This is the first record where I worked with the band, so it was new for me. They let me bring in ideas.
AL: Are there any other bands that you all like?
Gerard: There are tons. We like Bob Dylan, Neil Young, and the list is endless. I am really into Latin Music. Me and Anthony are into dance music. It is vast.
AL: What is the general reaction to your music?
Gerard: People have strong reactions to our music. It's music that people either love or hate. There hasn't been a lot of "it's okay."
AL: On the new record there is a lot of Dub Reggae music. Do you like that music?
Gerard: We are all big Dub Reggae fans. That seeped into the new record a little bit.
AL: You have a song called "Fra Type I & II": what is that about?
Gerard: Tommy Williams wrote that song. He doesn't like to talk about his songs. I can't help you out on that one.
AL: Anthony writes all the lyrics?
Gerard: No, Anthony and Tommy write all the lyrics. Mostly Anthony.
AL: Is their any shared politics in the band?
Gerard: Yeah. We are all pretty left wing politically. There are issues that we differ on. I tend to be the most left-wing member of the group. Politically we are coming from the same place.
AL: No one is voting for George Bush any time soon?
Gerard: I am not a big fan at all.
AL: What do you think about the election coming up?
Gerard: It is probably one of the most important elections the country has ever seen. I think that the voter turnout will be higher than ever. At least I hope that it is. For a lot of people who haven't voted in the past, this is their chance. In New York, being as Democratic as it is, you can just see the hatred for George Bush everyday. You see it on the street. People wear t-shirt and pins. There are banners everywhere. There is a lot of hatred for George Bush. It's very anti-Bush in New York City.
AL: What is your favorite part about doing music.
Gerard: I like writing songs and recording. It's better than touring. I am not a big fan of touring. I love playing shows every night, but there is something more satisfying and exciting about creating something and documenting it.
AL: Who is the most indispensable member of Radio 4?
Gerard: Probably Anthony. He started the band. If he left Radio 4, the band would cease to exist.
AL: Were you in New York during 9/11?
Gerard: I was. It was by far the weirdest thing I have ever seen in my life. I live in Brooklyn and I can see the Towers from my block. It's the only thing I can see from Manhattan. I live in Greenpoint. At the time I lived in Williamsburg. At the time my girlfriend worked next door at the World Financial Building. She used to walk through the lobby of the WTC everyday. So for hours I didn't know where she was. Some of the members of the bands lost some close friends. It was an awful day. It seemed like at that time people would come together. New York had the sympathy of the world. George Bush just took that and threw it in everyone's face. Now we have a general hatred for America.
AL: Since you are playing with another band inspired by The Clash like the Libertines I think it is interesting: The Libertines sound more like The Clash on their first album, and Radio 4 is closer to the spirit of Sandinista or London Calling.
Gerard: Yeah, that's a pretty fair assessment. We'll see.
AL: What is your setlist like on this tour?
Gerard: It's a mixture of stuff from Gotham and the new record. It's half and half. Anthony writes out the setlist. It's fine because it's not something I would want to do.
AL: So you just look at the list and think "Party Crashers is next, let's play it!"
Gerard: Yeah. There are songs like "Party Crashers" that are in the set every night. We always play "Dance To The Underground."
AL: Have you read any good books?
Gerard: Right now I am reading Motherless Brooklyn by Jonathan Lethem. I am also reading The Power of Myth. It is an amazing book. I recommend everyone to read it on the planet.
AL: Do you have any favorite films?
Gerard: Yeah. I like Down By Law by Jim Jarmusch. That is my all time favorite film. I like the gang movie The Warriors.
AL: Will Radio 4 ever do a musical version of The Warriors?
Gerard: I don't think that will ever happen. The Warriors was done already. Nobody should touch it. Definitely not. West Side Story has already been done.
AL: Do you still have regular jobs?
Gerard: I just quit my job. I was a bartender. Anthony owns a record store. It's called Somethin' Else and it's in Park Slope, Brooklyn.
AL: If people want to come down to Park Slope and buy the new Radio 4 record they can go to that store?
Gerard: Yes.
AL: How many shows have you played with Radio 4?
Gerard: In the past three years close to six hundred. We took off some time to do the new record.
AL: What are you doing the rest of the year?
Gerard: We are touring the whole rest of the year. We are going over to Europe again at the end of October. We'll see what happens after that. New records and new tours.
AL: What should young people be doing if they want to start a band?
Gerard: Going back to school. That is what you should be doing. Before I joined a band it is nothing I thought it would be. It is not the glamorous lifestyle I thought it was when I was younger. It's a lot of hard work involved. You have to be really dedicated to want to do this. It's not hard labor, but it's physically taxing. It's hard to be not at home and constantly on the road. I love it. I have a love/hate relationship with music.
AL: Touring is very hard.
Gerard: Yeah. I am not a young kid anymore. I am 29 years old and I am getting older. I like the comfort of my own bed and shower.
AL: You don't sleep a lot on the road?
Gerard: You do but it's never good sleep. You never get a good night's sleep ever.
AL: You end up passing out because you haven't slept for three days.
Gerard: Exactly. You wind up passing out rather than going to sleep. We drink a lot on the road. There is not much else to do.
Website: www.r4ny.com

Read more / Permalink