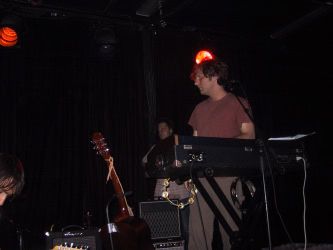 THE BLANK TAPES
ASHER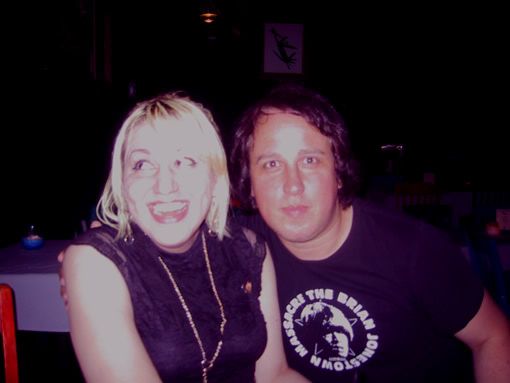 Drinking with Jackie-Lynn
The Infinite Beat 4.5
Last night at Safari Sams was the weirdest yet. I guess we were cleaning up after Trail of the Dead from the previous night. No sweat. There was four bands and a lot of music. Where were the people? It wasn't a total loss. The Flying Saucers came on and played their version of punk rock. Whatever makes the girlfriends happy? Asher was cool even though they were down to two members. The Blank Tapes was pretty good, even though I didn't know who was in the band. They didn't really seem like the most friendly band. The last band was The Front. They had some potential. Not even sure what I played. I played "Country Girl" by Primal Scream about 5 times, according to some. Here is a vague list of what I remember being played. I was using mostly my laptop and CDs and not any vinyl.
Here it is:
Primal Scream "Country Girl"
The Kills "I Hate The Way You Love"
Babyshambles "Killamangiro"
Primal Scream "When The Bomb Drops"
BRMC "Wishing Well"
The Black Angels "Bloodhounds On My Trail"
The Rapture "Out Of The Races"
The Subways "City Pavement"
Freeheat "Facing Up To The Facts"
Be Your Own Pet "Girls On TV"
The Duke Spirit "Lion RIP"
Freeheat "Keep On Truckin"
Primal Scream "The 99th Floor"
Blonde Redhead "Equus"
The Black Angels "Black Grease"
Babyshambles "Fuck Forever"
Wire "In The Art Of Stopping"
Dirty Pretty Things "Bang Bang You're Dead"
Freeheat "Back On The Water"
Primal Scream "Suicide Sally & Johnny Guitar"
Dirty Pretty Things "Gin & Milk"
Joy Division "She's Lost Control"
BRMC "Steal A Ride"
Darker My Love "Opening"
The Rapture "Olio"
Massive Attack "Risingson"
Wolfmother "Woman"
BRMC "Mercy"
The Rakes "Retreat" (Pnones Remix)
The Arctic Monkeys "I Bet You Look Good On The Dancefloor"
Autolux "Blanket"
Singapore Sling "Rockit"
The Raveonettes "Veronica Fever"
John Foxx "Burning Car"
Verve "Bittersweet Symphony"
Magazine "Because You're Frightened"
Annie "Happy Without You"
The Kills "Love Is A Deserter"
The Tears "Refugees"
The Yeah Yeah Yeahs "Phenomenon"
The Flaming Lips "Free Radicals"
Be Your Own Pet "Bicycle Bicycle"
Brakes "Heard About Your Band"
Beck "Sissyneck"
Morrissey "The Father Who Must Be Killed"
The Vines "Don't Listen To The Radio"
PIL "Death Disco"
Joy Divison "Unknown Pleasures" in its entirity
Some Indian music

Read more / Permalink