2/27/2010
2/15/2010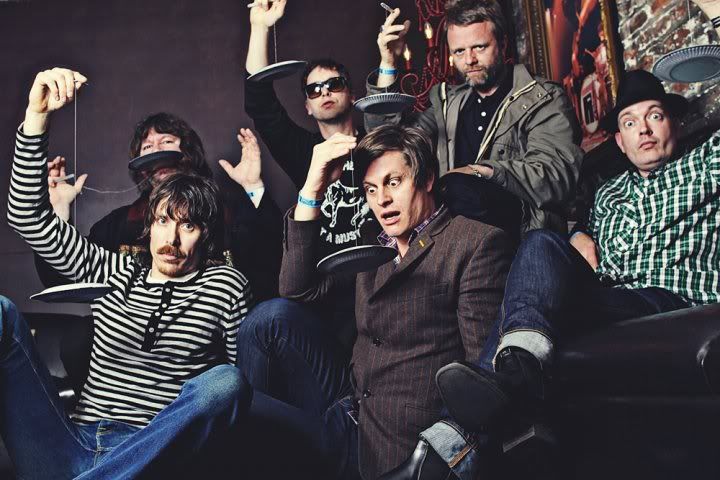 The Soundtrack of Our Lives
Interview by Alexander Laurence
Fredrik Sandsten (Drums)
Martin Hederos (Keyboards)
Ebbot Lundberg (Vocals)
Mattias Bärjed (Guitar, vocals)
Åke Karl Kalle Gustafsson (Bass, violin, vocals)
Ian Person (Guitar, percussion, vocals)
The Soundtrack of Our Lives is a major Swedish psychedelic rock band that started in 1995. They have produced five albums and have toured worldwide. I got to chat with keyboardist Martin Hederos this week. They are playing one of the shows at Noise Pop 2010. They will be at the Independent on February 27th. They will also play two shows in the LA area: at the Glasshouse on the 25th, and the El Rey on the 26th. Look forward to the shows.
AL: How are you doing today?
(Martin) Great, I'm really looking forward to play some Swedish psychedelia on your continent again and planning outfits...
AL: What do you think of Facebook and Twitter?
(Martin) Personally I'm not active on any of them but I realize the value of them as a platform to reach out. I'm still a fan though of the ol´ fashioned feel that you do not know everything about your favorite artist and you fantasize over the music lyrics and the covers and not knowing what they had for lunch.
AL: All your albums have done well in Sweden? Does it feel weird to go to other parts of the world where you are not as well known?
(Martin) In North America we have some of our most loyal fans, even if we're not massive, so that doesn't feel weird at all. To go to new countries were peoples ears are totally unused to our music, like China for example, is very exciting and gives us new energy and to see new faces that gets our grooves makes us want to travel more and spread the gospel.
AL: Does anyone in the band have a hobby?
(Martin) Yes! All of us actually.
Fredrik is a expert in old cars, soon to be a collector.
Mattias is a passionate fisherman.
Ian and me are foodies and spend a lot of time in markets
and always fantasize about new slowcooking recipes to make us relax off tour.
Kalle is always looking on Internet for new art pieces for his studio in Gothenburg.
Ebbot is the king of fleamarkets and can spot a rare 7-inch in a pile of lousy records anytime.
AL: Communion has been out for a while. Do you tour the UK and Europe first and then wait for the USA?
(Martin) We did a short tour in USA in March. We know after 15 years that everything has its time and that it's no need to rush.
You will get the perfected set, as a result of 15 month of playing Communion!
AL: Does anyone in the band read novels? Any suggestions?
(Martin) Yes, I'm a big fan of Don DeLillo, I think Underworld is one of my top 3 novels.
Right now I'm reading "The Brief Wondrous Life of Oscar Wao" by Junot Diaz and It's really reading as well. Not sure what the other guys have on their bedside table...
AL: How does it feel to have your songs on video games?
(Martin) I'm not playing them so much myself but as long as it's not crappy games with lots of violence, the stuff I'm trying to keep my 9 year old from, I think it's a great way of reach out. I like the NHL game. And really looking forward to see how we blend in with the 2010 MLB game
AL: Bjorn Olsson has left the band. When did that happen?
(Martin) It's very long time ago...
He likes to write and produce music but was not fond of the touring bit.
Everyone in the band is still good friends with him and I think everyone should check out his instrumental solo albums, You could find them on Parasol records I think..
AL: Have you produced records by other bands and have you participated in collaborations?
(Martin) Yes, there are a few...
Many Swedish acts, English singing acts. There is for example my duo Hederos/Hellberg (also on Parasol),
The Hellacopters, Ane Brun and right now I'm a member of Tonbruket, an instrumental group with the former member of e.s.t, Dan Berglund, there is an album out on Act in Europe right now.
It's some kind of psychedelia with a lot of improvisation but still with the energy of rock and the melodies of pop.
AL: How do you write songs in the band and where do you record them?
(Martin) Everyone write songs but the guitar players are the most productive makers of demos.
Then we all put them together and Ebbot does the lyrics and produces them together with Kalle usually in Kalle's studio Svenska Grammofonstudion. It is actually the biggest studio in Sweden right now.
AL: It's 2010. What is the plan to tour this year? Would you like to come to America more?
(Martin) We do want to play in America, especially the festivals, we've done Coachella and Austin city limits before, amazing festivals both of them, and we would love to play there again. Heard a lot about Bonnaroo as well, we're open for suggestions!
We haven't been to South America yet, that's a plan as well. Apart from that I think we will play a lot in Europe before
we're going back in the creative cave again for the next album.
AL: How is the band TSOOL different now from when you started in 1995?
(Martin) We're better friends, have some more grey hairs and have our own kids now! We've released over 100 good songs since then and that's a fact that makes us proud and gives us a fair amount of pondus if you ask me.
AL: What new bands do you like?
(Martin) Arcade Fire, Feist, PJ Harvey, Bon Iver, Silverbullit and Nina Kinert are a few of them.
AL: What is the most exciting thing about music?
(Martin) It makes you forget your everyday struggles, both as a performer and as listener.
" When music hits you, you feel no pain" Bob Marley
AL: Are there any spiritual interests in the band?
(Martin) Yes, come to one of our shows and you'll see....
AL: What is favorite part of being in America?
(Martin) For me, apart from the part of being where rock´n roll actually started and play at clubs where there's magic and history in the walls, it's the food. The Mexican street food, for example, that you find in Texas and California is something that you never could find in Sweden.
AL: What bands would you like to play with, that you haven't played with?
(Martin) I think we would make a really good match with My Morning Jacket.
AL: Does music affect people politically?
(Martin) Yes, if you look at the Jamaican and the African history for example, that's obvious that people can find strength in music in difficult times.
AL: Do you have any pets?
(Martin) No. Ebbot is the Pet king in the band with 3 dogs and 2 cats.
Website: www.tsool.net

The Soundtrack Of Our Lives
Read more / Permalink
Posted by

alexander laurence
at 2/15/2010 12:50:00 PM
0 comments


2/11/2010
2/08/2010