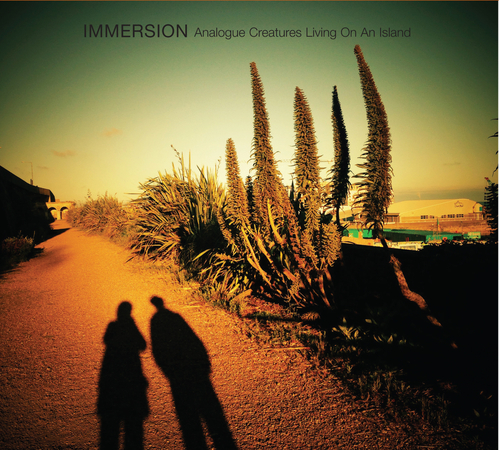 1. Always The Sea
2. Nanocluster
3. Fireflys
4. Shapeshifters
5. Living On An Island
6. Mechanical Creatures
7. Spinner
8. Organic Cities
9. Slow Light
Immersion's new album of seductive instrumentals takes in a wide range of moods and energies. Their music is a kind of Electro-Kosmishe - the sound of the 21st century, which nonetheless draws inspiration from German pioneers such as Cluster and Popol Vuh. And, like those groups, Immersion can create a world which is simultaneously devotional and sensual.
Combining the considerable talents of Malka Spigel of Minimal Compact and Colin Newman of Wire, Immersion is a true collaboration, with no delineation between who plays or does what. "We don't have fixed roles in Immersion," says Spigel. Newman concurs: "You can't really tell who plays what."
Cut to a mere 17 years later, and a new Immersion album glides into earshot. Their sound is unmistakable. And yet, clearly, the duo have evolved. Immersion has returned a different beast. The pulsing and sliding analogue synths are still present and correct. Indeed, the stately and plaintive Mechanical Creatures, with its constantly evolving web of analogue synth throbs, could easily find a home on Fripp and Eno's classic Evening Star album. But there are also several sonic advancements from Immersion's previous recordings.
The most noticeable differences are the introduction of guitars into the mix and an increased sense of urgency to their compositions. This means Analogue Creatures Living On An Island cannot be classified as ambient music. Although it does have its contemplative moments - such as the gently unfolding Slow Light - the majority of the album is powered by a strong sense of motion. Nanocluster is a tense and insistent composition. Coming over like the score to some futuristic spy film, it demonstrates Immersion's skill at creating miniature sound worlds alive with detail. Meanwhile, the urgent forward propulsion of Organic Cities weaves in shades of prime era Tangerine Dream - and may well be the album's highlight. The fact the album has been largely constructed using analogue instrumentation rather than digital, definitely gives it a warmth and depth which sets it apart.
During Immersion's 17 years hiatus, Spigel and Newman have been far from idle. Spigel released acclaimed solo albums, exhibited her distinctive photography, and performed sold-out shows with a reformed Minimal Compact. Newman helmed the revitalised Wire through a series of stunning gigs and poll-topping albums. Besides which, the pair collaborated with Max Franken and Robin Rimbaud (aka Scanner) as Githead, purveyors of skewed art-pop. And yet, despite all these outlets for their creativity, they decided the time was right to reactivate Immersion. "It felt like the right moment for us to do something with synths again," says Newman. "We had the urge to create instrumental, free-flowing music, which didn't depend on any kind of verse/chorus/middle eight format. Music that could also be propulsive with out resorting to any kind of obvious drumming."
And it's true the album exhibits a very organic flow. Another contributory factor could well be the duo's relocation from London to Brighton. "We live ten minutes away from the sea," says Spigel. "We walk by it almost every day. It's different every time we see it, even every hour. We've definitely been inspired by the light and the sound." This influence is perhaps heard most strongly on Spinner, the sonic equivalent of a bright spray of light radiating across a seascape.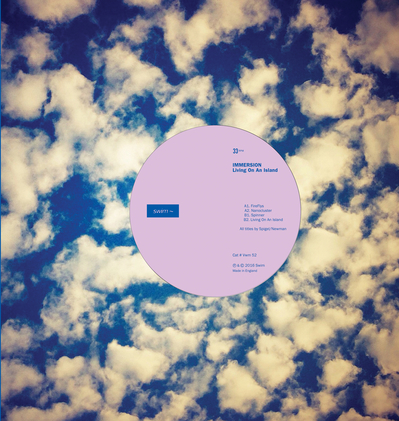 1. Always The Sea
2. Shapeshifters
3. Organic Cities
4. Mechanical Creatures
5. Slow Light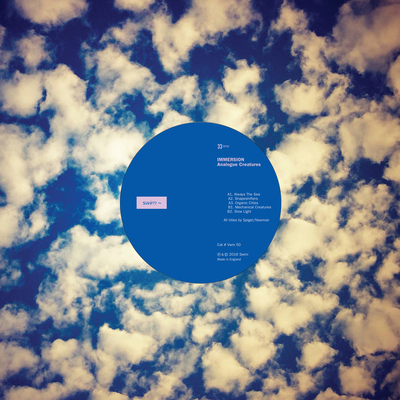 1. Fireflys
2. Nanocluster
3. Spinner
4. Living On An Island
GIGS
Immersion only rarely plays live – just two appearances up to the beginning of 2016 – but occasional live shows are now taking place. The most recent, our third in 2016, was at the Pop-Kultur Festival in Berlin in early September, as a collaboration with Ronald Lippok. You can read a review of it on the Quietus. The next will be at The Verdict, in Brighton, on 1 October as part of the Coloured Memories event. This is followed by a show on 19 November at the Ozen Bar, Tel Aviv, and will include a collaboration with Ulrich Schnauss.