Sahara Hotnights Interview
Interview with lead singer Maria Anderson
by Alexander Laurence
Sahara Hotnights are four women in their early 20s who are from a little northern town in Sweden. Out of boredom, they started playing together in their pre-teens. When they were around fifteen they played at a "Battle of Bands" contest. The winner would get to record their own demo in a studio. Sahara Hotnights won and their story begins here.
They recorded an EP titled "Suits Anyone Fine" and became a big live favorite around Sweden. In 1998 they had enough songs to start thinking about doing a proper album. In late 1999 they released their debut album "C'Mon Let's Pretend." It took the country by storm.

They kept touring and in the summer they got the award for best live band by the biggest Swedish newspaper. They also played to a full crowd at the Hultsfred Festival. They took a year off and then recorded Jennie Bomb, their most successful album yet. With an international interest in Swedish bands like The Hives and International Noise Conspiracy, Sahara Hotnights soon caught on outside of Sweden. Currently, they are touring the USA for the first time. I met the lead singer and guitarist, Maria Anderson (3rd from front), in Hollywood recently. We talked about the band and we got to hang out at Book Soup. Maria ended up buying Spin and a book by JT Leroy. The band has a long two month tour ahead. Did we mention they are really hot?
________________

AL: How old were you when you started the band?
Maria: We were eleven or twelve. I don't know why we did. We weren't a manufactured band. Nobody told us we should play. When we released our first EP in 1997, we were like fifteen of sixteen at the time. I don't know if people see us as kids or they see us as a band. We thought we were a band like other bands. We never thought about how young we were.
AL: Do you still play stuff from the earlier EP and first record?
Maria: We don't play the EP, but we play three songs from the first album. The first album has similar songs to the new one. It's sounds different. Jennie Bomb is a better produced album. It sounds like what we sound like as a live band.
AL: When do you know it's time to go into the studio to make an album?
Maria: We always have precisely enough songs to make an album when we go into the studio. We take thirteen songs into the studio and hope that they all turn out good. We use them all. Most bands that I know go into the studio with forty songs. We only write songs that would be good enough to be on an album.
AL: Who writes most of the songs in your band?
Maria: Me and the drummer Josephine write all the songs. We write all the music in the band. I write all the lyrics. The other members help us out with the songs. They come up with ideas all the time. When we put the song together in the rehearsal space we all contribute.
AL: The band The International Noise Conspiracy is a band that foregrounds many intellectual and political ideas. As a band do you also deal with politics in any way?
Maria: I think that we are a socialistic band. Being a socialist is just having common sense. It's really sad when young people don't give a shit. We just had an election in Sweden a few weeks ago. It's really interesting. Thinking about all the different parties is not so fun. There are other things about politics than the separate parties. The historical aspects of politics are more important too because it affects your daily life.
AL: Many people here see Sweden as a sexually open place because people here are made to feel bad about their sexually, so it's really repressed....
Maria: I know. I couldn't live anywhere but Sweden because as you said it works so good. The welfare system and all that. But at the same time it's getting together with the European Union. There are a lot of right wing politicians who are successful in Europe. It feels that it can happen in Sweden. But now the right wing party in Sweden did the worst in the recent elections since the 1940s. That was a good thing.
AL: I read somewhere that your band was described as "hardworking."
Maria: Well, we tour a lot. We play about one hundred or more shows per year. We will tour for one month and then we will take a month off. We played the Reading and Leeds Festival this year. We are going to play Japan next year.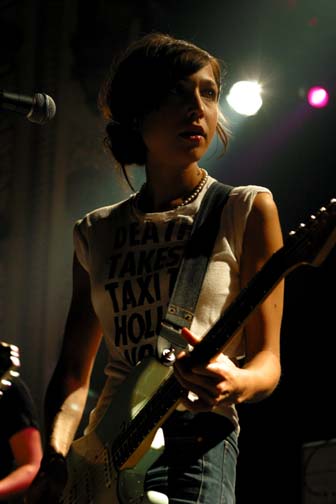 AL: What do you think of The Donnas?
Maria: We toured with them in Europe two years ago. It was fun. I like them. They are more like a concept than a band. They write about boys and rock and roll. Rock music is about that stuff. I would feel stupid myself only writing songs about that. But it's very hard to be that simple. Most people try to develop and expand. It's easy to compare us to The Donnas or The Runaways because we are all girls. You don't know if they compare us to The Runaways because they actually get the same feeling with them as with us, or because they can't think any further.
AL: Do you know much about Rodney Bigenheimer or Kim Fowley?
Maria: I met Rodney Bigenheimer. He was nice. I don't care about legends.
AL: What are your shows like?
Maria: We play songs from both albums. We play to a very mixed audience. People should have expectations when they come to see us.
AL: Do you see yourselves as a live band?
Maria: I think that every rock band sees themselves as a live band. That's what you do, like we do, one hundred days a year or more you are on tour. You go away for three or four weeks at a time. It is honestly more fun to play live than to sit all day in a recording studio. You feel smarter in the studio because you can work on the songs. It feels good making the songs. I don't know anything about computers or the recording process. It's boring to talk about the technical things.
AL: The name of the album is "Jennie Bomb." Is that a reference to Jennie Asplund?
Maria: Yeah, it's our tribute album to her. It's not a concept album at all. We wrote all the songs in a very short time. It was like five months. It was the same style as the previous album. But on the previous album we had used songs that were five years old.
AL: How did you write "On Top Of Your World?"
Maria: I wrote the guitar riff and the chorus at home. In a rehearsal we came up with a verse and the rest of the song.
AL: Do you read many books?
Maria: Yeah. We have much time on tour. I read many biographies of other bands. Right now I am reading a book about the Mafia and Italy. It's about the 1980s.
AL: Do you watch many films?
Maria: We don't have a VCR on the bus. I watch movies when I am at home. I like a lot of films by Hitchcock. We saw Spiderman on the flight over here. It was pretty good. I that film Amelie.
AL: Do you live with your parents?
Maria: No, we moved out when we were seventeen. We all live in Stockholm actually. When we get home, and when we have free time we just lay around at home. Where we come from there is nothing to do if you are a teenager.
AL: Are there many bands in Stockholm?
Maria: Yeah. There are not a lot of Swedish bands from Stockholm. Most bands want to move there. It's the center. It's expensive but everyone still insists on moving there. Most of the record companies are there. We are on RCA Sweden.
AL: Who has the best sense of humor in Sahara Hotnights?
Maria: Probably all of us together. We are not funny individuals.
AL: Who is the lazy member?
Maria: Jennie thinks that sleep is the most important thing. On the weekends you get really frustrated when you are on tour and you can't get any sleep.
AL: Do you play any cover songs?
Maria: We play a song by Suzie Quatro. We play a song by The Undertones. The songlist changes every night.
AL: What other bands do you like?
Maria: I like Devo, Magazine, The Go-Gos, and Johnny Cash.
AL: Do you have any advice for young girls who may want to play music one day?
Maria: No.

AL: What do you see the band doing in ten years?
Maria: I don't know. We hardly ever talk about the future because it would make us nervous and depressed. I think that we should honestly quit as a band before we get too old. You shouldn't be playing rock music when you are over thirty. I don't want to. It depends on when you started too.