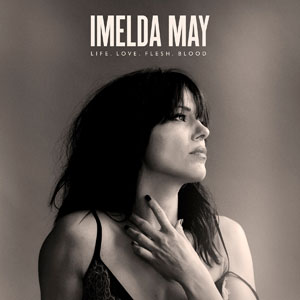 IMELDA MAY'S "BLACK TEARS" VIDEO PREMIERES AT THE FOUR OH FIVE
NEW RECORD LIFE, LOVE, FLESH, BLOOD OUT APRIL 7 VIA VERVE RECORDS

MAY'S FIRST NEW FULL-LENGTH ALBUM IN THREE YEARS PRODUCED BY T BONE BURNETT
"I've never met anyone quite like Imelda May. She is full of life…I [am] inspired by her honesty and her generosity, and I continue to be intrigued." —T Bone Burnett

"I love the girl she used to be but I think I love even more the woman she's become. Still mischievous and playful, still a siren, but there's an ache in her voice now that has me with a glass at my ear to the wall of her world where trouble has entered the room. There's an erotic power here that's not just feminine power. She makes truth telling an invitation to intimacy." —Bono
"May delivers her songs of heartbreak, desire, loss and liberation as if her life depends upon it." —Daily Telegraph

"[May] has poured her heart and soul into her new album." —Evening Standard
Critically acclaimed Irish singer Imelda May is celebrating her upcoming fifth full-length record, Life, Love, Flesh, Blood, with the premiere of the video for the track "Black Tears" at The Four Oh Five; watch/share the video HERE. The site calls the live performance "poignant [and] atmospheric."

The album, May's first new music in three years, is due April 7 via Verve Records. The record is receiving early rave reviews in the U.K. from the Evening Standard, The Mirror, the Daily Telegraph and more. Of the new video, May explains, "I've recorded in Maida Vale a few times and always loved the atmosphere, the history in the walls and the almost industrial look of it…I asked for simple lighting, good sound and not much else. I was a little nervous with the thoughts of it but as soon as [we] started I was immersed in the music and reliving every moment that I wrote about."

Additionally, W Magazine recently premiered the video for the album's first single, "Call Me," hailing the track as a "sweet, spare lament," while the Daily Mail called it "stylish and extremely moving." Watch/share the video HERE. May also recently performed "Black Tears" on "Jools Holland's Annual Hootenanny" on New Year's Eve, which can be viewed/shared HERE. May's performance was the most-watched segment of the evening with 300,000 + YouTube views to date, plus it is the second most viewed video on the BBC Music YouTube Channel since October.

Produced by the legendary T Bone Burnett, the new album marks a new direction for May who recently ended her marriage of eighteen years, making Life, Love, Flesh, Blood her most autobiographical record to date. The album features contributions from guitar hero Jeff Beck and piano maestro Jools Holland, as well as an accomplished group of backing musicians including the core trio of guitarist Marc Ribot (Tom Waits, Elvis Costello), drummer Jay Bellerose (Elton John & Leon Russell, Ray Lamontagne) and bassist Zach Dawes (The Last Shadow Puppets, Mini Mansions), the same band that recorded Robert Plant and Alison Krauss' Raising Sand.

Her previous records have seen success both in the U.S. as well as in Europe. The Los Angeles Times commented on her previous work, "Ireland-born Imelda May's career is fostered by paying homage to legends like Buddy Holly and Johnny Cash and, more importantly, furthering rockabilly's cross-pollination into New Orleans jazz, delta blues and amp-splitting punk aggression." May's 2010 album Mayhemwent Platinum in Ireland and Gold in the U.K., along with numerous TV performances on "Later…With Jools Holland," "Conan," and an impressive four performances on "The Tonight Show with Jay Leno," to name a few.
She performed "Jools Holland's Annual Hootenanny" on New Years Eve, her piece on You Tube is the most watched segment at 300,000+ views and the second most viewed performance on BBC Music YouTube since October.