BAD SUNS UNVEIL NEW "OUTSKIRTS OF PARADISE" SUMMER TOUR DATES WITH SPECIAL GUESTS HUNNY
Presale Tickets On Sale Tuesday, Jan. 31 at 10am Local Time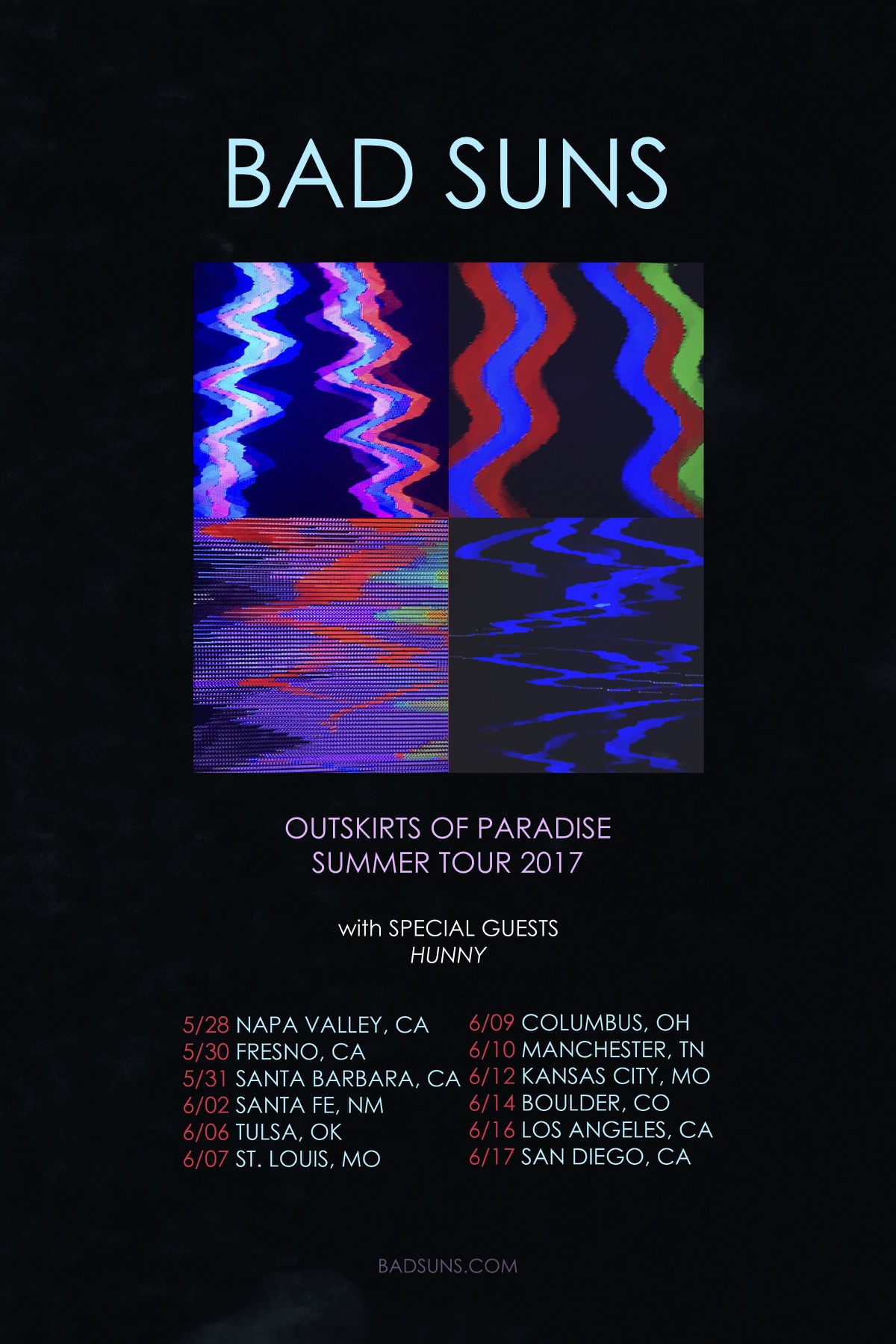 "Their most dynamic and introspective work yet." -Alternative Press
"…even more bounce and pop-rock than their debut" -San Diego Reader
"Supple pop-rock snappiness." -Milwaukee Journal Sentinel
"Poised, tight, and undeniably fun." -Sputnikmusic
(January 30, 2017)–Los Angeles– In continued celebration of their second studio album, Disappear Here, Bad Suns are pleased to announce their "Outskirts Of Paradise" summer headline tour. Following their first leg of shows, the guys will be back in May playing across North America with support from HUNNY. A full list of dates can be found below, along with on-sale information.
Artist Presale: Tuesday, January 31 @ 10am local (password: BUENALUNA)
Spotify Presale: Wednesday, February 1 @ 10am local (password: HEARTBREAKER)
General On-Sale: Friday, February 3 @ 10am local
Tickets can be purchased
HERE
.
Bad Suns On Tour:
FEBRUARY
28TH SALT LAKE CITY, UT – IN THE VENUE ^
MARCH
2ND OMAHA, NE – THE SLOWDOWN ^
4TH INDIANAPOLIS, IN – DELUXE ^
5TH MILWAUKEE, WI – THE RAVE BAR ^
6TH CLEVELAND, OH – GROG SHOP ^
8TH TORONTO, ON – VELVET UNDERGROUND ^
9TH PITTSBURGH, PA – STAGE AE ^
11TH BALTIMORE, MD – OTTOBAR ^
12TH CHARLOTTE, NC – UNDERGROUND ^
14TH JACKSONVILLE, FL – JACK RABBITS ^
15TH ATLANTA, GA – THE LOFT ^
16TH BATON ROUGE, LA – SPANISH MOON ^
18TH SAN ANTONIO, TX – PAPER TIGER ^
20TH TUCSON, AZ – 191 TOOLE ^
MAY
28TH NAPA VALLEY, CA – BOTTLEROCK FESTIVAL
30TH FRESNO, CA – STRUMMER'S ^^
31ST SANTA BARBARA, CA – VELVET JONES ^^
JUNE
2ND SANTA FE, NM – MEOW WOLF ^^
6TH TULSA, OK – VANGUARD ^^
7TH ST. LOUIS, MO – THE READY ROOM ^^
9TH COLUMBUS, OH – A&R BAR ^^
10TH MANCHESTER, TN – BONNAROO FESTIVAL
12TH KANSAS CITY, MO – RECORD BAR ^^
14TH BOULDER, CO – FOX THEATRE ^^
16TH LOS ANGELES, CA – FONDA THEATRE ^^
17TH SAN DIEGO, CA – OBSERVATORY ^^
^ – with From Indian Lakes
^^ – with HUNNY