DESCENDENTS COLLABORATE WITH MIKKELLER BREWING SAN DIEGO BREWERY ON SIGNATURE BEER
'FEEL THIS COFFEE IPA' DEBUTING AT SAN DIEGO BEER WEEK NOVEMBER 4th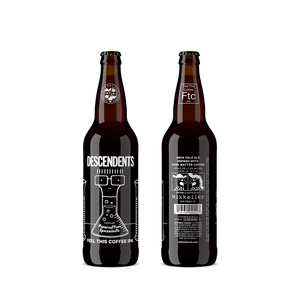 Descendents have announced that they have partnered with San Diego'sMikkeller Brewery to create a new beer called Feel This – a 7.3 % coffee IPA brewed with Dark Matter Hypercaffium Spazzinate coffee beans.

"Having grown up in the punk rock and skate punk scene, it was an honor to be given the opportunity to create a beer for the Descendents to celebrate their recently released album," said Bill Batten, Mikkeller SD Brew Master). "While doing this collaboration we got an opportunity to meet the Dark Matter boys and learn about their coffee process. Using their roasting profiles, in combination with our passion for hop-forward IPA's, we were able to create a special beer as unique as the band."

The beer ships from the brewery to distribution outlets in 25 states across the United States. It will be available to retailer and consumers while supplies last. A portion will be sold through Mikkeller's
webshop in Europe.
The beer is named after the legendary punk band's song "
Feel This
" from the Descendents most-recent album
Hypercaffium Spazzinate
, which is out now on Epitaph.
Fans in the San Diego, California area will get a chance to taste the
Feel This
Coffee IPA
for the first time at the San Diego Beer Week on November 4
th
.
About Mikkeller:
Mikkeller Brewing San Diego is a new brand deeply rooted in the friendship of two world renowned breweries, (gypsy trailblazers) Mikkeller and (legendary) AleSmith. The vision is to merge the best craft beer traditions of Europe and Southern California, while employing a curiosity in exploring the boundaries for modern beer brewing. Expect super fresh, hoppy beers as well as classic European styles.